From LADD direct support professionals (DSPs) to those we support working at essential businesses, our people have been stepping up as frontline heroes during the pandemic.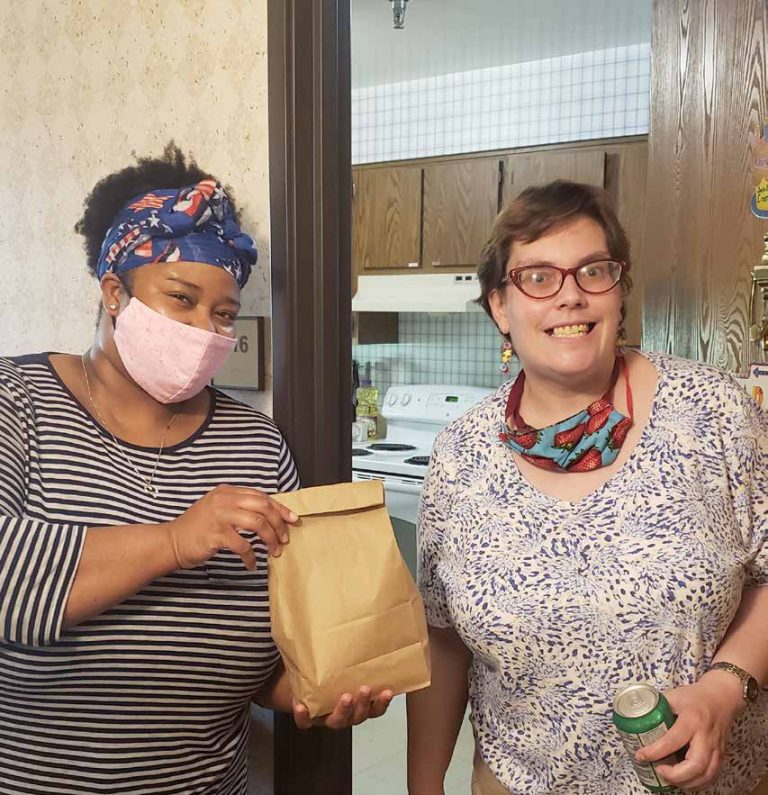 Just a few short months ago, if you had asked D Steele, a LADD assistant coordinator, what heroism looks like, he would have never mentioned throwing a drive-by birthday parade or sewing masks. D certainly would not have pointed at himself.
But today, while still fighting a global pandemic that has ravaged communities and turned our world upside down, that is exactly what heroism looks like. LADD's frontline employees have stepped up Shannice Clark delivers treats to Sarah Ernst at Find-A-Way Apartments on Memorial Day weekend with courage, led with compassion and innovated with creativity to ensure the safety and wellbeing of the people we support.
Their work caught the attention of Ohio Gov. Mike DeWine early on, who hailed DSPs for their commitment and critical role during the pandemic.
"They continue to show up," he said during a press briefing in March. "This is essential care… for people to be able to get through each and every day and have the best quality of life that is possible. Thank you, each and every one of you, for that work."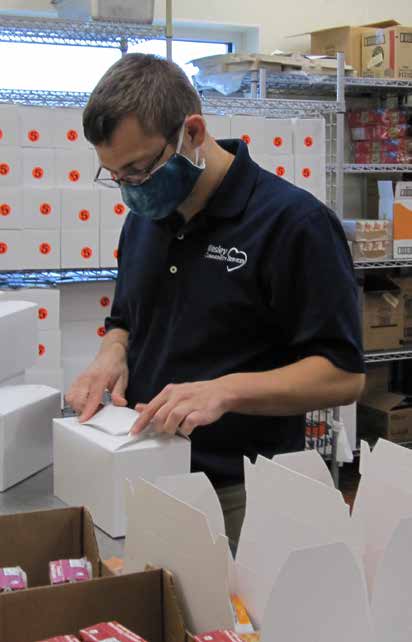 With data showing that people with developmental disabilities are contracting the virus at higher rates than the rest of the population, the role of a DSP is more crucial than ever, but it requires practicing rigorous protocols to keep everyone safe. And that is exactly what they have been doing for more than four months.
A constant cycle of handwashing and disinfecting has become part of their daily schedules. Wearing a mask for the entirety of their shifts, a requirement by LADD during the pandemic, is their new normal. Even outside of work and following much of society reopening, LADD DSPs understand how their individual actions impact the entire LADD community and the need to limit their own interactions in public.
As focused as they are on safety, DSPs remain dedicated to providing support and engagement opportunities to people at the same time. Pivoting quickly to develop new programming for people at home, staff launched gardens, crafting activities, book clubs and more. They learned new technology to connect virtually, ensuring that people stay in touch with other LADD staff, providers, family and friends. DSPs have also championed health and wellness – not only virus prevention, but also fitness and mental health – through daily walks, home workouts and more.
"Our DSPs have raised the bar for what it means to be a LADD employee," said LADD CEO Susan Brownknight. "They have demonstrated both grit and grace during these uncertain times that make us all proud to be part of this community."
LADD DSPs aren't the only heroes among us though. Several individuals supported by LADD work at businesses deemed essential and continued to show up and serve others when many across the nation worked from home or were forced to stop working altogether. At various Kroger locations, David Tripathy, Lisa Croog, Zach Leinbach and Katie Malott kept the Cincinnati community fed and stocked on other essentials. Austin Ross ensured vulnerable seniors stayed safe and nourished through his work with Meals on Wheels/Wesley Community Services. At Ohio Living Llanfair, Jerry Herman and Tina Bemerer also supported older adults. And Spencer Duncan served up hot coffee to essential workers at Dunkin Donuts. We are grateful to all frontline workers in our community for their perseverance and dedication through such challenging times.