By Emily Geier Vollmer
Kristin Harmeyer has been an important part of the LADD team for over 17 years. When she proposed and developed the Health and Wellness Program five years ago, she wanted to stay true to her mission for people served by LADD to "live longer, live fuller, and empower people with the tools to do what they want to do in life." With a degree in health and fitness and previous work as a direct service provider, she was well suited to develop the multiple facets of the Health and Wellness Program. She took her experience incorporating personal training and weekly wellness sessions to help create programs focused on wellness for both the body and the mind.
The following programs highlight the key initiatives under this platform –
Weight Management Program – to help those we serve develop and maintain a healthy lifestyle by setting personalized goals to encourage activity and making smart choices about food. Currently, 35 individuals are enrolled in the program and almost one third of them are wearing Fitbits. These individuals will complete both cardiovascular risk assessments and wellness surveys in the program. The wellness survey will consider the following components of one's life (environmental, social, financial, mental, physical, etc) when evaluating an individual's overall health and wellness. This is a very holistic approach to encourage the staff to have meaningful conversations with those we serve, and also shifts the paradigm to focus on the positive aspects of how these changes can impact one's life.
Stress Management program – developed in partnership with XU psychology graduate students to help individuals recognize and alleviate stress. The goal is to provide individuals with disabilities with specific toolkits to better cope and manage their everyday stress.
Basketball program with St. Xavier High School – one of the most successful and meaningful programs for over three years. Over 20 people served by LADD meet early on Saturday morning with roughly 15 St. Xavier High School students to play basketball during the Fall and again in the Spring at Xavier University's brand-new recreation center. The relationships formed have not only enriched the lives of people served by LADD, but St. X students will return from college to continue to participate in these sessions. A true testament to the power of these friendships was when these St. X students (facilitated by LADD Board Member, Mark Clippinger) began delivering groceries to those served by LADD during the height of the pandemic.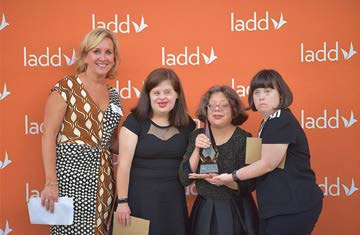 Dementia Identification program – as LADD transitions to serving an aging population, they are working on developing tools to identify early signs of dementia. LADD hopes to empower the staff with the appropriate training to conduct a robust evaluation for assessing dementia and implement activities and tools to help delay the onset and progression of dementia.
Healthy Relationships program – empowering the people we serve to better understand their bodies and boundaries of respect and consent. (The statistics are staggering as people with disabilities are 7 times more likely to experience sexual abuse than those without disabilities.)
Although the COVID-19 pandemic has temporarily canceled these programs due to safety measures, Kristin and her team are collecting data and developing programs of excellence in order to scale across the organization to allow everyone we serve to participate.
Despite challenging times, the work pressed forward in 2020 and beyond. Kristin cites Sarran Hoffman during the tribute video as the recipient of the 'Fit to Fly Award' at this year's Taking Flight Award ceremony. The award recognizes a person receiving services from LADD who has demonstrated success in achieving their health & wellness goals.
"Exercise is important to me because it keeps me healthy. I exercise 6-days a week." Shared Sarran. Her mother, Beth Hoffman stated that Sarran has always accepted the challenge of trying. Being motivated by the joy of positive results Sarran stays motivated, active and keeps going day in and day out with a can-do attitude.
"The thing that sticks out to me about Sarran is that she's always feeling it. She's always in a good mood." Kristin went on to say. "I love to exercise, and there are days where I'm not really in the mood… I never see Sarran like that. Other people feel that energy, and I think they have a good time because she is there."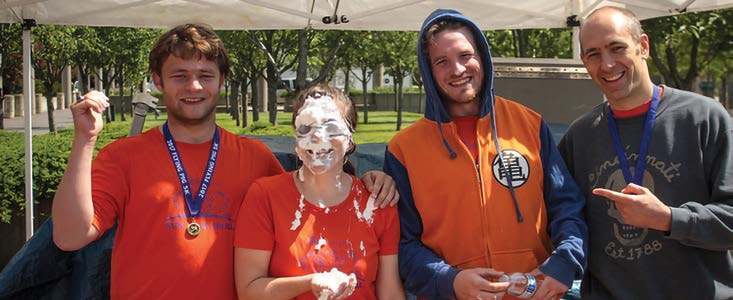 Sarran is applauded by her peers and throughout LADD as someone who understands the importance of taking care of your body at every stage.
"I try to practice health & wellness every day. And I hope people practice it after me." Says Sarran. LADD is proud to have recognized Sarran this year at Taking Flight for leading by example in a critical area of our lives, especially during the pandemic.
Kristin's future vision of the Health and Wellness Program is to impact every individual with disabilities who joins the LADD community. The goal would be to create a health profile for each person using a wellness survey from the weight management program as a starting point. This would provide staff with a better understanding of an individual and their specific needs to help tailor preventative services to best meet them where they are in life.